Family Education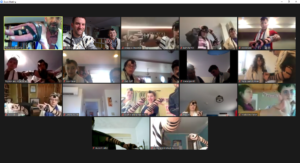 Temple Emunah seeks to encourage spiritual and religious growth in families, and to assist families in building connections and community within Temple Emunah. Our programs strive to enable parents to strengthen themselves to be the Jewish educators of their children and to support families in the observance of Jewish traditions within their homes. 
Family Education includes activities such as:
Family-oriented Shabbat and Holiday services and programs

Tot Shabbat

High Holiday Services

Holiday Sim

h

at Tot Programs

Community Dinners

Friday Night Programs – BBQ and Barekhu Nights and Pasta and Prayers

Sundaes on Shabbat with Rabbi Lerner

Programs for Families with Young Children
Families with Young Children
We hold a number of programs geared towards families with young children (ages 0-5 years old). We hope you join us for some of these wonderful opportunities to celebrate Judaism, enjoy a warm and engaging community, and meet other families. These programs are open to everyone (Temple Membership is NOT required).
Shabbat Sing: Join Tova Weinronk and Nareeluck Stephenson every Friday at 9:30 am for a Shabbat Sing-Along! Sing and move to your favorite Shabbat songs, help make delicious pretend hallah and soup, and welcome Shabbat with Temple Emunah. No RSVP necessary. See you there!
Click here to join Shabbat Sing
Meeting ID: 840 4257 7228
Passcode: Emunah613
Tot Shabbat: Families with children ages 0-5 gather to share Shabbat together. This service includes singing, praying, hearing stories, and marching with the Torah. For more information about Tot Shabbat click here.         
High Holy Days for Tots: Every year we have special services on both days of Rosh Hashanah and Yom Kippur, for families with young children. These services include singing, stories, prayers, and lots of fun. A small oneg of kid-friendly snacks is provided on both days of Rosh Hashanah. These services are 9:30 – 10:15 am and are FREE of charge and open to the public – Temple Membership is NOT required. You must RSVP in advance. Whether High Holy Day services will be on Zoom, outdoors, or in the sanctuary this fall, we look forward to welcoming in the new year with you.
Simhat Tot: Celebrating the Holidays: Simhat Tot is an experiential holiday program geared towards families with children ages 0-5 years old (siblings are welcome to attend). We gather throughout the year on Sunday mornings or afternoons to prepare for upcoming Jewish holidays through crafts, songs, stories, and fun. Simhat Tot is a wonderful way to bring in the joy and excitement of our holidays to our little ones. We are continuing to hold outdoor Simhat Tot programs this year.
Pasta and Prayers: Temple Emunah invites all families with young children for a special Friday night Shabbat experience and dinner. We will start with a casual pasta dinner with lots of salads and sides, then come together for musical services with songs, stories, dancing, and more. After services we will do Shabbat rituals and have a yummy dessert. All are welcome; we look forward to resuming Pasta and Prayers soon.
Playground Meet ups: Meet other families with young children and have a blast at various playgrounds in different local towns. This is a fun way to meet new friends in a casual setting. Stay tuned for more details for the coming year.
Watermelon Wednesdays: Each summer we host our popular Watermelon Wednesday series – For six Wednesdays we meet in front of our building from 1:00 until 1:30 pm for ice cold watermelon, music, and fun. We hope to hold Watermelon Wednesdays again this summer. Stay tuned for more details as COVID guidelines continue to change.
For more information please contact Tova Weinronk, Synagogue Educator and Young Family Engagement Coordinator.