In 1911, a small group of Jewish families formed the East Lexington Hebrew Congregation, and went on to build an Orthodox synagogue that they called the "Sylvia Street Shul." The shul was constructed as a home, so that it could still be used as housing in the event that the synagogue did not flourish. The Sylvia Street Shul held its first service on Passover in 1916. Approximately 50 Jewish families lived in the area at this time. In 1945, some Sylvia Street Shul families created the Arlington Jewish Community Center (JCC), starting a Hebrew school, Hebrew classes, and diverse programming. Over the next decade, membership grew over time to 180 families, the community became the Arlington-Lexington-Bedford JCC, and the Sisterhood and Brotherhood became very active. 
After Rabbi Judah Stampfer served for a time as part-time rabbi, in 1959 the community engaged in the first formal process to hire a full-time rabbi. Through the process the community split: some chose to follow a Reform rabbi and form Temple Isaiah, and the rest hired Rabbi Herbert Rosenblum and agreed to become a Conservative synagogue. After two years of lay leader growth, 150 families chose the name Temple Emunah and began construction on a rocky site in Lexington. In September, 1963, the community celebrated their first High Holiday services in their own Sanctuary. Emunah soon joined the United Synagogue Youth and began a joint project with Temple Isaiah, the Lexington Institute for Jewish Studies. As always, the congregation remained primarily lay-led, prioritizing the religious leadership of members during services and deciding not to hire a permanent cantor. 
Over the last 60+ years, Temple Emunah has grown and flourished. A Havurah program was initiated and women became full participants in the worship service. We launched an adult b'nei mitzvah program (first class graduated in 1985), Shabbat shalom services for tots, and our Bereavement Committee. We formed the Billy Dalwin Preschool, serving over 250 students from Emunah, Isaiah, and beyond, and started diverse worship services such as Minyan Katan. In 1987, we took our first community trip to Israel. In 1999 we began a capital campaign to better support our 520 member families, and significantly expanded our building. Brotherhood, Sisterhood, Adult Education, Social Action, and Ways & Means have been very active, and we have expanded lay leadership to a new array of committees, which you can see represented on this website. Each year, the community celebrates Glatzer Weekend, memorializing the life and teaching of member Professor Nahum Glatzer (z''l). The shul and its religious school have won many awards for their outstanding achievements. Since 2004, Rabbi David Lerner has served as head rabbi, bringing new energy and more young families. He has expanded Tot Shabbat, Family Minyan and Israel programming, among many other initiatives. 
The Temple Emunah community acknowledges that it is housed on stolen Pawtucket and Massachusett land, taken generations ago by European settlers as part of colonization. We acknowledge the history of this land not as reconciliation, but as a commitment to justice for Indigenous people in our country and on this land.
For more than 25 years, Temple Emunah has been entrusted with a Holocaust Memorial Torah, on permanent loan from the Memorial Scrolls Trust of the Westminster Synagogue, in London, England. Our Torah, number 1449, dates to the mid-nineteenth century and was previously used in a synagogue in Sobeslov, Czechoslovakia. Learn more about the Memorial Scrolls Trust here.
Our past rabbis have been:
Rabbi Herbert Rosenblum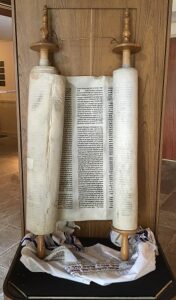 (1959-1971)
Rabbi Joel Meyers (1971-1981)
Rabbi Richard Meirowitz (1981-1986)
Rabbi Bernard Eisenman (1986-2004)
Rabbi David Lerner (current senior rabbi) (2004-present)
Rabbi Marci Jacobs (first assistant and first female rabbi) (2006-2011)
Rabbi Michael Fel (assistant rabbi) (2011-2019)
Rabbi Leora Kling Perkins (current associate rabbi) (2019-present)