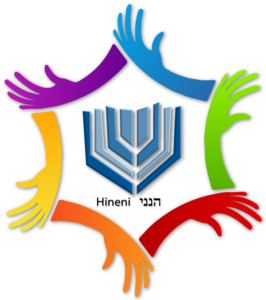 Hineni is an outreach program for our own Emunah family. We will be there for you when you need us.
Hineni (translation: "Here I am") is a volunteer program established to care for our Emunah family.  We assist congregants by preparing and delivering meals in time of sickness, as well as offering transportation for medical needs.  The committee is dedicated to helping our fellow congregants when the need arises. To receive emails regarding specific Hineni requests, email Jane Aronson.
The Hineni Connecting Team (HCT)
Temple Emunah's Hineni Connecting Team (HCT) pairs together caring member volunteers with congregants in need. The HCT volunteers provide pastoral visits and telephone calls to our members who are homebound, or isolated. These visits and calls are made to congregants of all ages, including new mothers. For some congregants, these interactions do not replace the rabbinic visit or call but serve to enhance. Our HCT volunteers are matched with congregants who are living with frailty, chronic illness, or post-operation recovery, and need some support.
The HCT is well known for its Shabbat Bags, which are prepared lovingly and delivered during Shabbat visits to the home or hospital. The HCT delivers bags for bereavement and illness. A special highlight of the bags are healing shawls. These comforting shawls are handknit by our talented Hineni Knitters. The knitters also create baby blankets and caps, to help welcome our newest members!
The HCT visits are very beneficial in helping our congregants feel connected to their Emunah community. If you know an Emunah member who needs the help of the HCT or you would like to volunteer to join the HCT as a 1:1 match or to deliver bags, providing brief visits, please contact Linda Skolnik, HCT Coordinator.