Sisterhood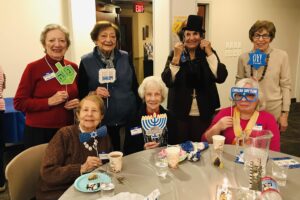 The mission of the Temple Emunah Sisterhood is to provide educational and social activities to meet the needs of women and their families within our congregation; support the congregation, its youth and our religious school; enrich the Jewish education and ties to Israel of its members; and support Women's League of Conservative Judaism-Torah Fund initiatives.
Be a part of our Sisterhood!
Sisterhood provides you with an opportunity to:
Experience stimulating programs to enhance your personal growth, Jewish involvement and sense of community
Engage your intellect, grow your abilities, and enhance your creativity for personal, educational, and cultural enrichment
Establish new and lasting friendships
Become an informed Jewish woman who can make a difference
Enrich your own Jewish identity and that of your family
Support Torah Fund, the Jewish Theological Seminary of America and its affiliate learning institutions.
Sisterhood Board