Supporting Israel
On October 7th, 2023, the Jewish people sustained the most deadly attack since the Shoah. Over 1,300 people were brutally murdered by Hamas terrorists and 241 people were taken hostage. In the following weeks, Jews from around the world have pulled together to support our Israeli family and rebuild while the crisis continues.
What you can do to help:
Support organizations that fight Antisemitism (i.e. The Anti-Defamation League or ADL)
Stay informed. Subscribe to CJP's Daily News Roundup to stay up to date on the latest news on Israel.
Write letters to our president, congress and representatives to thank them for supporting Israel and for providing federal security grants to synagogues.
Watch for opportunities to learn about Israel with our rabbis and with invited speakers sponsored by the Israel Committee, Adult Education committee and/or the Religious School.
What Temple Emunah has been doing to help:
Temple Emunah's first shipment of donations was loaded onto a plane to Israel in support of the Israeli families displaced by the war.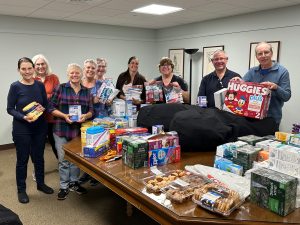 Temple Emunah would like to thank everyone who donated for their generosity during this time of crisis and specifically thank Adam Samansky, Michael Roskind, and Janet Goldberg for their work in coordinating this drive.
Vigil for Israel in Lexington Common
On October 19th, Temple Emunah joined with our wider Jewish Lexington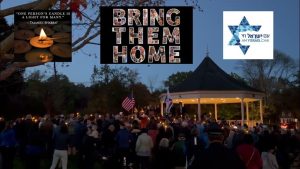 community with Temple Isaiah and Chabad of Lexington.
Click the image to the right to watch the highlights of the vigil.
Understanding Israel @ 75 Series
On Wednesday, November 1st, Temple Emunah welcomed Dr. Rachel Fish for the inaugural session of the Understanding Israel at 75 series. See the video above to listen to her lecture. Subsequent learning sessions will occur on Wednesday, December 6, Wednesday, January 24, Wednesday, March 6, and Wednesday, April 10.
March on Washington: Rally to Support Israel
Rabbi Lerner and Me'ir Sherer, our Director of Congregational Learning, and over 30 Temple Emunah congregants are joining with other delegations from the Conservative/Masorti Movement, the Reform Movement, the Reconstructionist Movement, and Jewish Federations from across the United States in a powerful show of solidarity, marching on Washington. We will pray in support of Israel, for the release of our hostages, and to show Jewish pride in the face of antisemitism.
Providing a Safe Home for Displaced Israelis
Our congregant, Ken Bruss, has graciously opened his home to an Israeli family who came to safety in Boston.