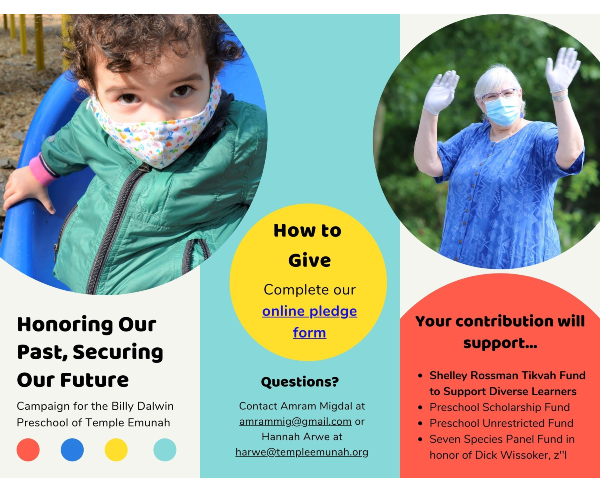 Honoring Our Past, Securing Our Future Campaign for Billy Dalwin Preschool
The Honoring Our Past, Securing Our Future Campaign has been an effort in 2020-2021 to commemorate the 30th anniversary of the school and to ensure that the Preschool will remain a beacon in the New England Jewish Community for the next 30 years. We are so grateful for our community's support and leadership during this campaign.
Click here to view our campaign contributors!
Donate to the Preschool
While our campaign has come to a close, you may make a donation to the Preschool at any time by clicking here. We invite you to join us in sustaining Billy Dalwin for years to come!
Shalom to Shelley
After a remarkable 31 years as the Founding Director of the Billy Dalwin Preschool, Shelley Rossman is retiring after this school year and this summer's Kaytana program.
We are excited to announce the transition of Preschool leadership as Jane E. Aronson joins the BDPS as our new director on July 1, 2021. Learn more here.
On June 13, we held a retirement gala to honor Shelley Rossman's tenure and accomplishments. Please check out the recording of the event, as well as the tribute videos made by Preschool families and alumni on our YouTube page.